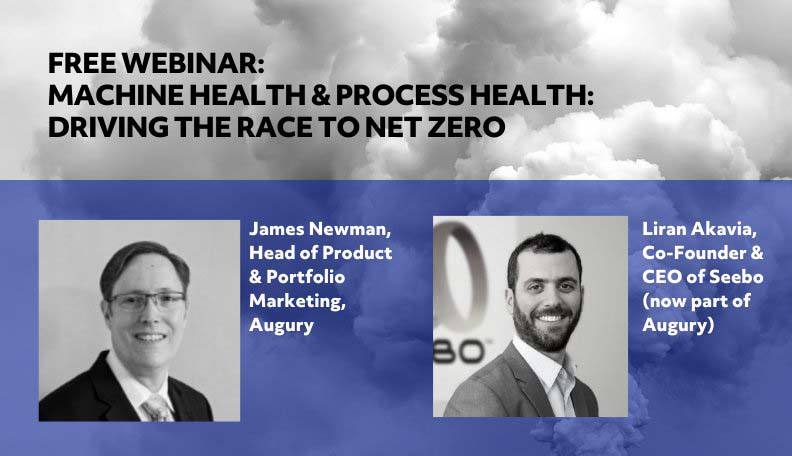 As the race to net-zero emissions intensifies, how can energy-intensive manufacturers meet their decarbonization goals, and simultaneously meet demand in an increasingly complex and competitive business environment? Watch the free on-demand webinar 'Machine Health & Process Health: Driving The Race To Net Zero' to find out.
"Most people have always assumed this is a zero-sum game – profit or sustainability – but now we can tackle both," says James Newman, Head of Product & Portfolio Marketing at Augury during the webinar 'Machine Health & Process Health: Driving The Race To Net Zero'.
Hosted by content strategist and member of the Carbon Almanac network, Inbar Lee Hyams, the panel also included Liran Akavia, Co-Founder & CEO at Seebo (now part of Augury). The webinar originally took place on 23 July 2022 on the global decarbonization platform Decarb Connect.
The webinar lays out the path energy-intensive manufacturers can follow to reach both their business and sustainability goals. It explains how the combination of Machine Health and Process Health can enable manufacturers to take a more holistic approach to digital transformation – for the full benefit of People, Planet and Profit.
Machine Health and Emission Reductions
Recent independent reports have made a direct link between Machine Health and emissions reductions. For example, one paper shows manufacturers can save 12-15% on energy consumption if their machines were all running optimally. Another paper shows how billions of tons of carbon are caused by production inefficiencies – that can be dealt with a AI-driven prescriptive maintenance solution.
"Big savings can already be had on the assets already in place. But research shows that more than 50% of manufacturers are still completely in reactive maintenance modes. There's no way to keep your assets in an optimal condition with that kind of system," observes James. "Now technology exists that enables us to have a visibility into the health of the assets in near real-time – all the time."
"Most manufacturers adapt these technologies with an eye on eliminating downtime, which is absolutely a great starting point," says James. "But they can also be used as a way to track our ability to stay close to optimal operating conditions."
Two use cases were then presented: 'How Augury Helped Frito-Lay Save a Mountain of Snacks' and 'Saving 2.8 Million Tubes Of Toothpaste For Colgate-Palmolive'. It's also important to note that not only were the products saved in these cases, but also the energy that went into making them.
Process Health: Harmonizing Operation Variables
Meanwhile, a report states that $3.3 billion in waste is created through unplanned downtime alone due to defects in product. "In addition, there's all that waste when we produce a product and we are not happy with the quality and we throw it in the bin," says Liran. "We are also throwing out the energy that went into producing those products."
"With Process Health, you have better control over the end quality of your product," says Liran. Plus, you can factor in other variables such as cost, energy use, emissions or changing raw materials in face of supply chain disruptions. "You can actually find a place that optimizes all your different and ever-changing objectives," says Liran.
Loop in Workforce Transformation
Now with Augury's fusion with Seebo, Machine Health and Process Health can be further harmonized to bring deeper but no less actionable insights into the whole production cycle.
"Historically, for more than 100 years now, we've operated in silos of maintenance and operations, with very different objectives and very different views of how the world should be operated," notes James. "We've worked from the idea that these two things can never completely be harmonized. Now this is no longer true. We can eliminate the ampersand between Maintenance & Operations."
Of course, we are not completely there yet. Newly unified and empowered teams will need to be built that optimize how emissions get managed in an organization across the whole production process. In short: "This resulting Production Health can really pave the way to net zero by giving us full visibility and traceability into a combined ecosystem."
Sign up now to watch the webinar 'Machine Health & Process Health: Driving The Race To Net Zero'.